Albondigas Soup is made with beef and rice meatballs, carrots, potatoes, and zucchini in a rich tomato broth. Packed with flavor, this simple Mexican Meatball Soup recipe will quickly become a family favorite.
Some of our other favorite Mexican soups include Caldo de Pollo (Mexican Chicken Soup), Instant Pot Chicken Tortilla Soup and Green Chile Chicken Enchilada Soup.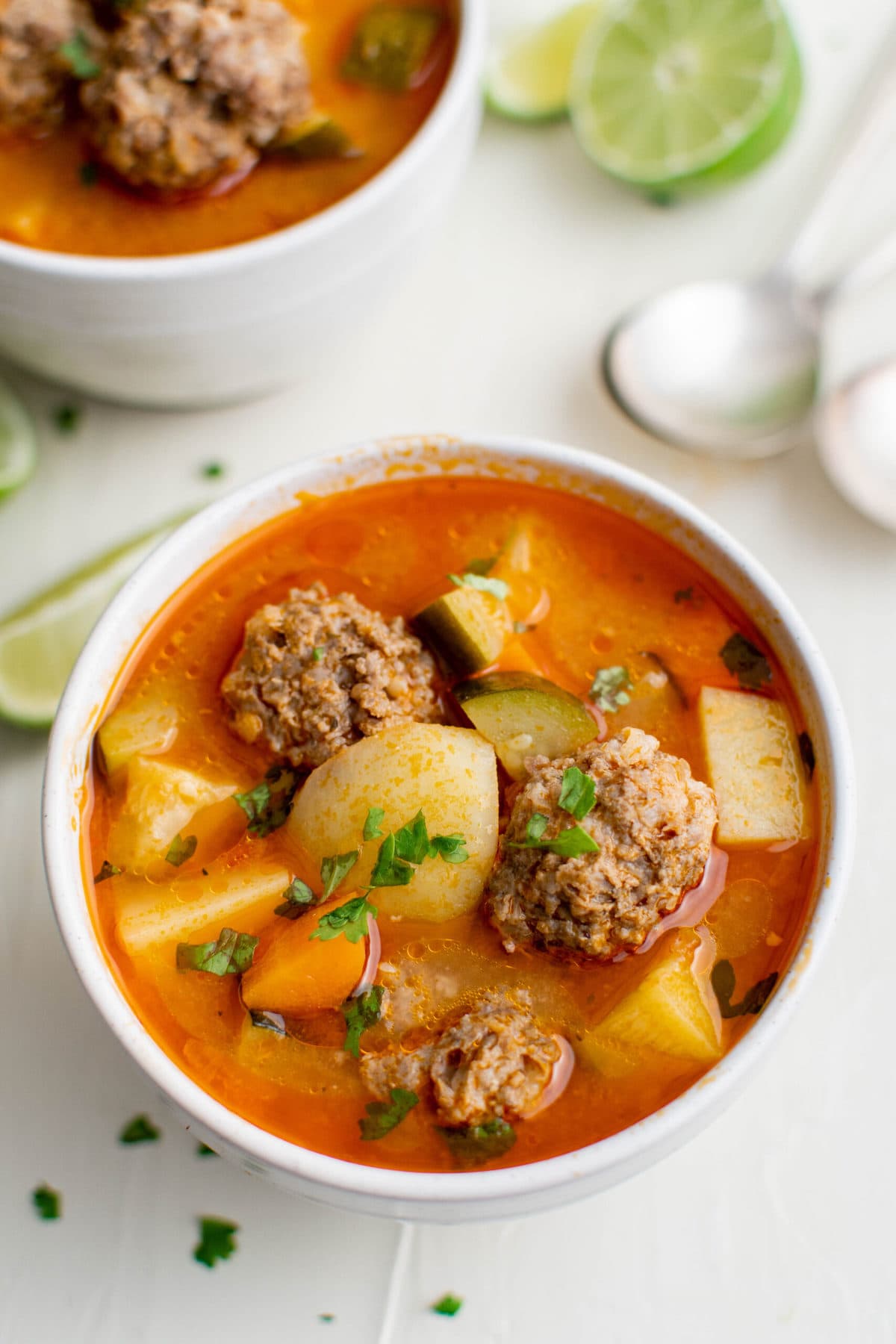 If comfort food is your thing, you have to try this Albondigas soup! It's warm and satisfying and packed with flavor. Serve it as an appetizer course before another traditional Mexican dish like Chicken with Mole Sauce or Green Chile Chicken Tamales. Or serve it as the main dish with some Mexican Rice and Homemade Flour Tortillas on the side.
What is Albondigas Soup?
Albondigas Soup is a flavorful Mexican meatball soup, that is both satisfying and comforting. It's full of thick, juicy meatballs, potatoes, vegetables and Mexican spices in a rich tomato broth.
The Albondigas Soup recipe is similar to an Italian Wedding Soup, where the meatballs and broth are cooked together to make the meat super tender and for the best flavor. The potatoes are starchy and thicken the soup just slightly, while the veggies add bulk.
Ingredients for the Meatballs
Lean ground beef – You don't want a lot of grease seeping into your soup, so stick with the leaner 90% ground beef.
Egg – to moisten and help hold the meatballs together.
White onion – Finely chopped. You can substitute yellow or red onion.
Long grain white rice – This acts as the binder (similar to breadcrumbs in Italian meatballs), and it cooks within the meatball.
Garlic cloves – 2 or 3, finely minced.
Salt – Needed for flavor. Ground beef need to be properly seasoned.
Spices and herbs – ground cumin, garlic powder, black pepper, dried oregano
Ingredients For the Soup
Low-sodium chicken broth – I always choose low sodium so I can have better control of the salt content.
Vegetables – Crushed tomatoes, carrots, russet potatoes, zucchini.
Optional – freshly chopped cilantro and lime wedges
How to Make Albondigas Soup
There are two parts to this recipe – meatballs and broth.
Mexican Meatballs
The meatballs are formed from ground beef, raw rice, egg, onion, garlic, and spices, then simmered in the soup broth over medium heat for about 30 minutes. Feel free to add fresh herbs if you have them on hand.
The rice is added raw and will cook with the meatballs as they are simmered.
You can make the meatballs large or small, but they are traditionally fairly large. Aim to make similarly sized meatballs for even cooking.
The Broth
The broth is made with chicken broth or beef broth, crushed tomatoes, carrots, potatoes, and zucchini. You can add minced cilantro to the soup if you like, and lime to brighten the flavor.